E|B Unpacks the Wondrous World of Scandinavian Antiques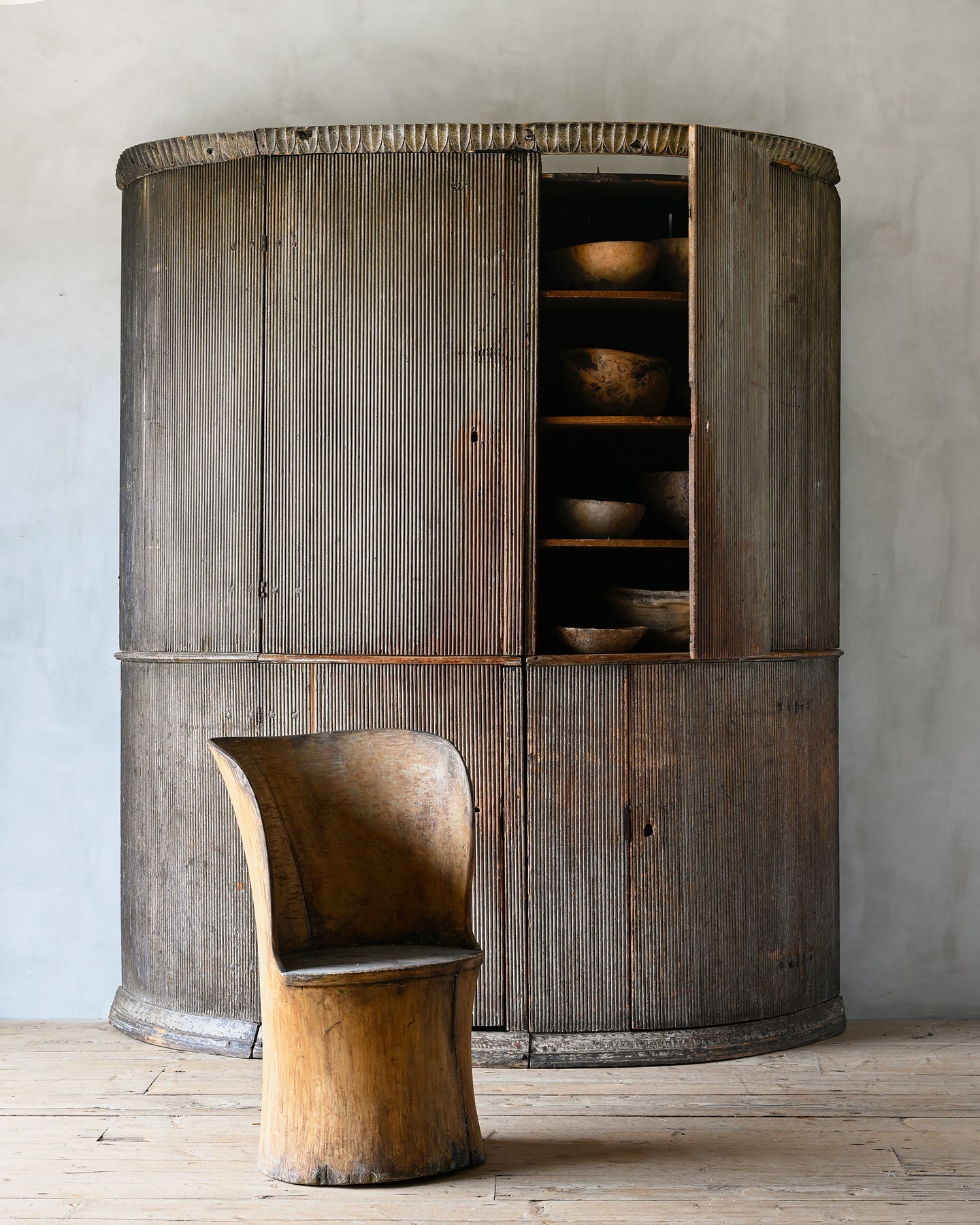 Exceptional and very unusual Swedish 18th century provincial Gustavian all reeded demi-lune shaped cabinet in it's original finish. ca 1780 Sweden.
The world of antiques is vast, and can oftentimes feel inaccessible and daunting. Added to this is the misconception that antiques are all the same: old, stuffy, and out of reach. Emerson Bailey is here to challenge this view.
With Curator & Sourcing Director D. Larsson by our side, we're taking a radically friendly approach to help our clients understand, acquire, and live with antiques.
WHAT'S SO SPECIAL ABOUT SCANDINAVIA?
Let's start by diving into a short, yet comprehensive introduction to our favorite: Scandinavian antiques. Little is known about them, but we're passionate about these design rarities exactly because of the fact that they're emblematic of what makes antiques so exciting to begin with: they're full of history, allure, stateliness, and story. At once classic and historical, yet fresh and exciting, Scandinavian antiques offer an unexpected gateway into the world and possibilities of rare treasures for the home.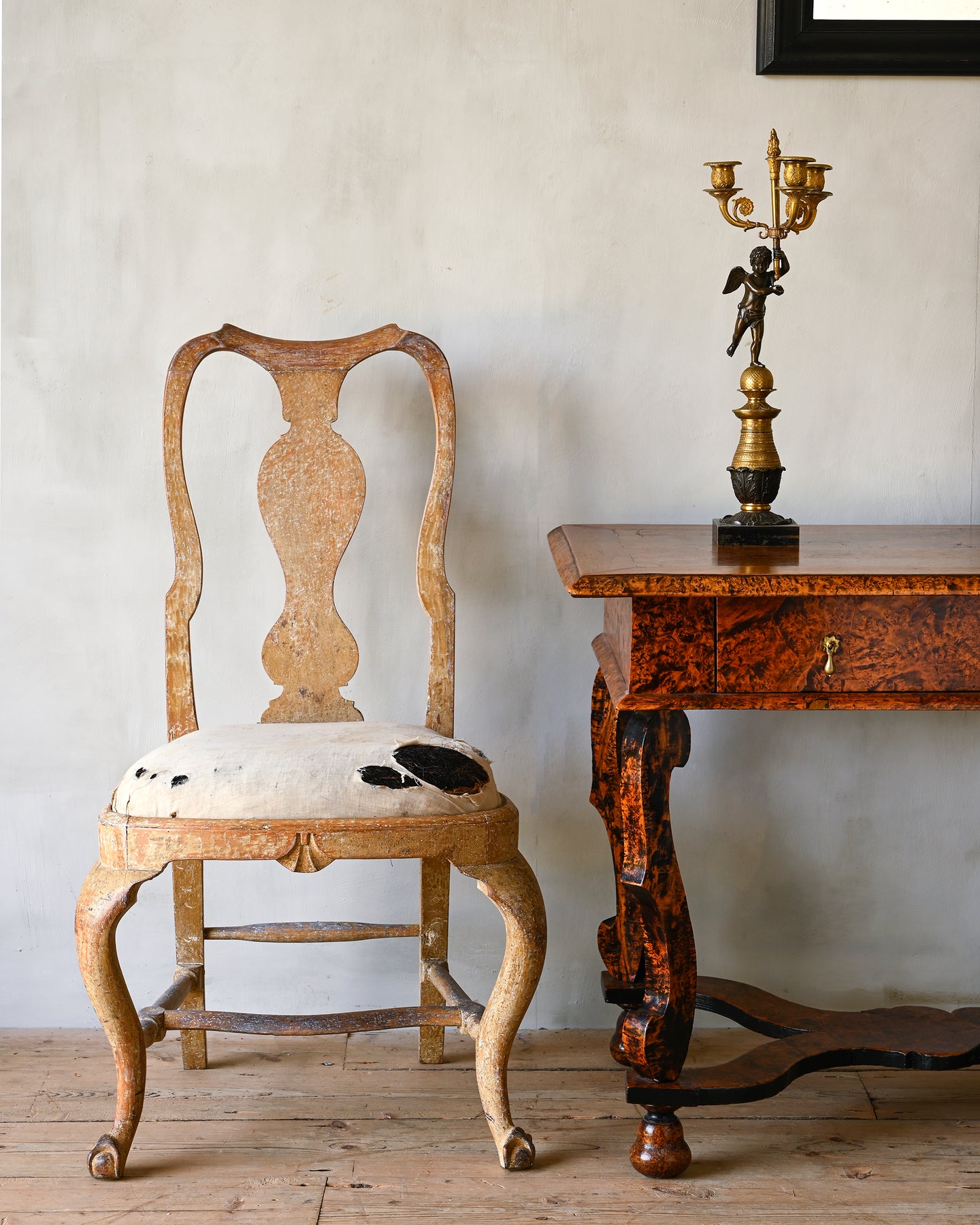 Fine and unusually large 18th century Swedish Rococo period chair in its original finish with fantastic shape and proportions. Ca 1760 Sweden.
While Central European antiques from countries such as France, England, and Italy are known for their daring and opulent designs— think ornamental details such as heavily carved curved forms— Scandinavian antiques are characterized by clean lines and balanced proportions. This Scandinavian aesthetic sensibility has become popular in contemporary times, but in contrast to the minimalism du jour, the antiques offer an inexplicable and irreplicable sense of timeless simplicity.
These objets d'art from the Nordic countries fit seamlessly into the modern home, simultaneously adding character to any space. 
THE SCARCITY COMPLEX
Whereas artistic periods in Central Europe often continued into the next decades or even centuries to come, Nordic artisans would halt the production of a specific style of antique at the end of a period, making these pieces scarce. This was especially the case for 18th-century Scandinavian antiques, which were made at a smaller scale compared to those dating back to the 19th century. There is, however, a special timespan in between periods, for example Rococo and Gustavian, in which artisans produced "transitional pieces," in which stylistic overlaps occurred within the context of single pieces of furniture – it's all in the details!
Often overlooked, it's in part these details that conjure such an innate sense of surprise when discovering Scandinavian antiques. And unlike pieces from France or England, where many have been lost or destroyed in wars or periods of historical upheaval, Scandinavian finds— namely those from Sweden— do exist. 
However, it's only with the proper eye for details, honed by our in-house expert D. Larsson over a decade of dealing in these antiques, that historians and dealers can discover the finest of furniture. Scouting specifically for charming patinas and original, untouched high-quality characteristics, we are able to offer our clients a vast selection of our 18th and 19th-century antiques available in their original color, often with minimal retouches. The unique filter of D. Larsson's design sensibility is unparalleled as a curated, specialized trade resource through Emerson Bailey.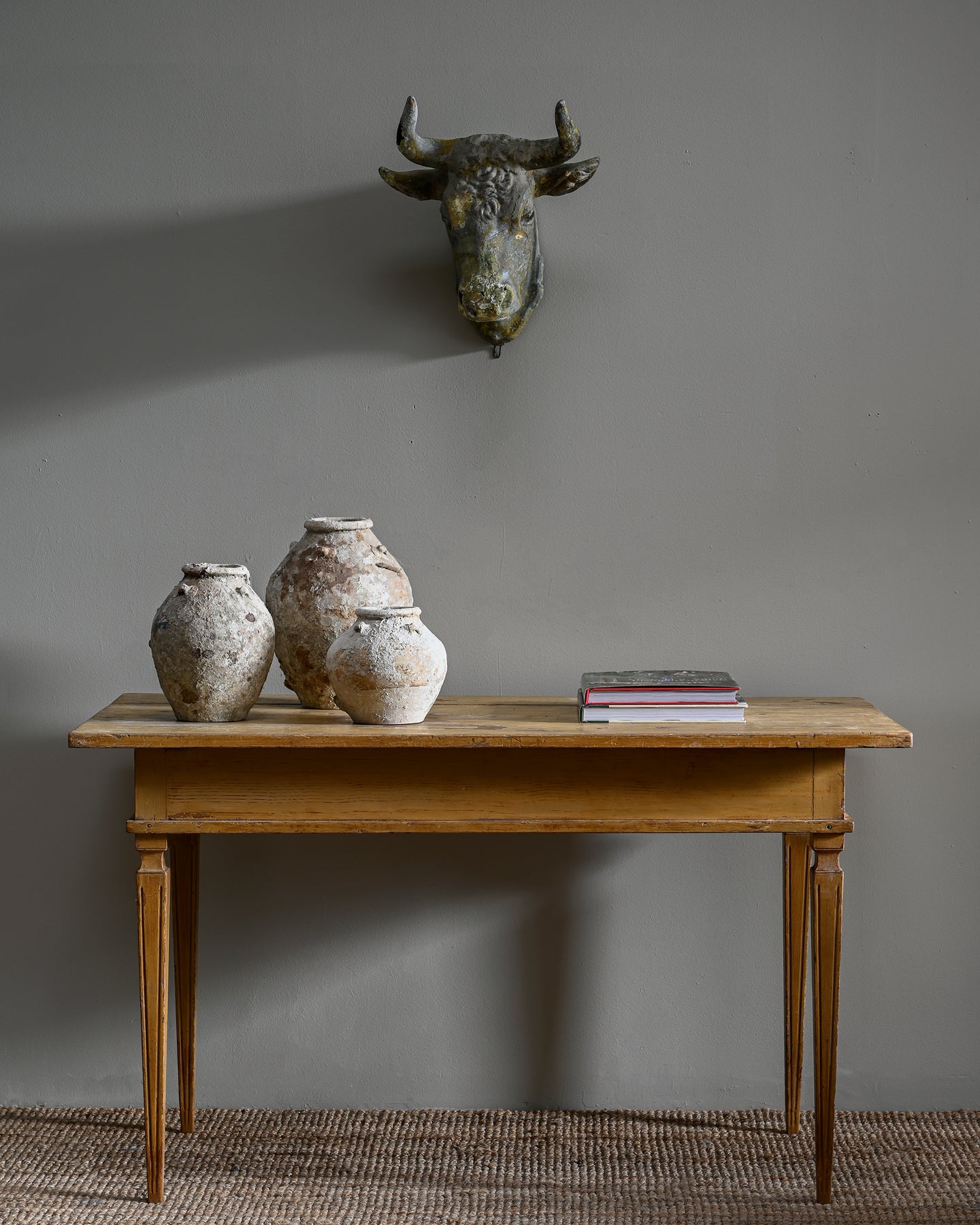 19th century provincial Gustavian console table in its original finish with good patination in great proportions. Ca 1800 Sweden.
HOW A FRAUGHT LAW SET OFF SOME OF THE FINEST FURNITURE 
In Sweden, the most common style of 18th-century antiques were the Rococo and Gustavian styles. The former rose to prominence after the Swedish government placed a ban on furniture imports during the early half of the 1700s. This embargo was intended to stimulate and support the local economy and its craftsmen, given that Sweden had previously relied on imports from England and France to furnish its homes. The result of this effort led to Sweden's own distinct take on Rococo, with its impeccable craftsmanship, refined silhouettes, and pared-back ornamentation. 
Following this period of design (and the transitional style era) was the Gustavian era, eponymously named after the Swedish monarch, King Gustav III. Works from this period also carried influences 
from Central Europe, exhibiting elements of Italian classicism and French neoclassicism. Contrary to these styles, however, Gustavian antiques are less ornamented, with a greater emphasis on clean lines and craftsmanship.
DISCOVERING THE OLD AND THE NEW 
Today, our showrooms exhibit a selection of unexpected curations of Scandinavian design rarities and other objects and designs from our Contemporary Collection. Our mission is to break down the obscurity of the design process and bring back the fun of discovery. No matter whether you're going for a classic, traditional, or even rustic style – or something more contemporary, clean, and modern – Emerson Bailey's expertly curated selection of antiques, furniture, art, and wares by today's most renowned artisan makers and brands offer a treasure trove to inspire, delight, and to last lifetimes.
Editorial Contribution by Nabi Williams
---